Winter & Spring Storm Boating and Marina Safety
While California generally experiences mild winters, when storm clouds roll in, many waterways become dangerous for boating enthusiasts. Boat owners and marina operators are advised to be storm ready throughout winter and spring.

This page contains information and links to weather resources, effects on California's waterways and safety precautions to follow. California State Parks Division of Boating and Waterways staff monitors winter weather and posts pertinent safety information on BoatCalifornia social media as it becomes available.

Dos and Don'ts of Cold Water Boating Fact Sheet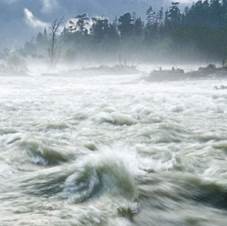 ---
Winterize Your Boat
Here are some recommended practices to prepare your vessel for cold weather conditions. This includes preparing it for storage to protect it from the elements and ensure it is ready for the spring season. Consult your manufacturer's manual for your specific vessel's instructions, but below you can find some general guidance on gearing your boat for hibernation.
Clean and dry the boat bilge. Empty the bilge to reduce the chance of a spill and prevent freezing of the bilge pump. Place an oil absorbent in the bilge to capture excess oil, and dispose of used oil absorbents and the bilge water at your County local household hazardous waste collection center. Remove boat drain plug if stored on a trailer.


Empty holding tanks and port-a-potties. Find pumpout and dump stations by downloading the Pumpout Nav app or visit DBW's directory. Use non-toxic antifreeze in holding tank systems and heads.


Clean your boat inside and out.Choose less-toxic cleaning products with green certifications such as EPA Safer Choice or Green Seal.


Cover when stored and ventilate to prevent mildew. Custom-made, reusable canvas or synthetic covers protect your boat and allow for air circulation preventing mildew buildup. Recyclable shrink wrap provides a waterproof barrier.


Clean your dock box and properly dispose of products. Call 1-800-CLEANUP or visit www.earth911.com for hazardous waste disposal locations near you.


Fill fuel tanks. Keep your tank full to ease condensation and add a non-toxic fuel stabilizer. Change or install fuel/water separators and filtration systems. Follow engine manufacturer recommendations and check for additional recommendations from BoatUS here.
Drain water systems. Be sure to drain both the engine cooling and drinking water systems, and fill each with non-toxic antifreeze. Never use automotive antifreeze, which is toxic to the environment and can cause serious illness if used in drinking-water systems.


Check and charge batteries. Clean terminals and use a terminal protector. If you remove your battery from your boat, keep it in a dry place and connect it to a trickle marine charger. If you keep your battery in your boat, unplug it and fully charge it periodically.


Inboard Engines: Change and recycle used oil and oil filters. Flush engine(s) with fresh water and drain if your boat is out of the water. Drain manifolds. Check coolant in closed cooling system.


Outboard Engines: Change and recycle oil in lower unit. Flush engine with fresh water. Disconnect fuel hose and run engine until it stops. Store engine upright for proper water drainage.


Inspect stern drive. Drain and refill lower unit. Check for leaking parts. Grease all fittings and check fluid levels in hydraulic steering and lift pumps.
---
Unusual California winters with fast, high water can bring debris and destruction to boating facilities. California State Parks Division of Boating and Waterways advises that marina and harbor managers develop a storm preparation plan that fits the safety needs of each facility.