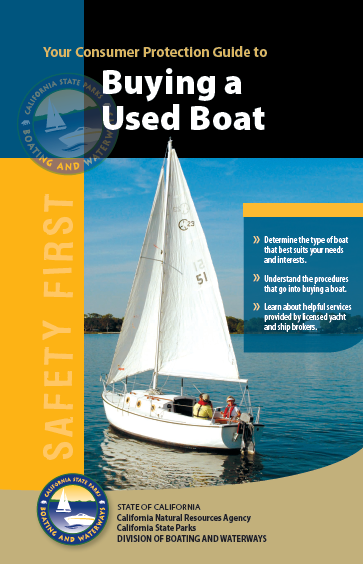 This booklet will:
Help you determine the type of boat that best suits your needs and interests
Help you understand the procedures that go into buying a boat
Show you the services that a licensed yacht and ship broke can provide
Buy a used boat through a licensed yacht and ship broker
They're experienced. Plus, they're bonded and state-licensed professionals who specialize in this business. They also have instant access to statewide, national and even international networks of boat owners and brokers with boats to sell.

Looking for a Used Boat? Be Smart. Buy Smart.
Whether you're going to sail the open ocean, fish your favorite coves or chart a course to your dream retirement-buying a boat is the adventure of a lifetime. You can find many exceptional values in used boats-they can be affordable, seaworthy, well built, well maintained. To make sure you get years of pleasure and adventure out of your used boat, buy smart.
This special booklet will help you. It's a service of the California Division of Boating and Waterways and the California Yacht Brokers Association (CYBA). Read it before you buy, then refer to it for help as you go through the buying process. You can also use the Department's toll-free number and Website for more help. They're listed at the bottom of this page.

To receive an email copy of the Buying a Used Boat booklet as shown above, click on the cover illustration. To order a hard copy, please click here.
Follow these steps and recommendations, make the right choices-and they'll make the sailing smoother during your boat buying experience.